Posted: May 18, 2017
By: Megan Weekley
Making Sense of the Skills Gap
As learning and development professionals, we're hearing a lot about the topic of the skills gap lately. Skills gap is a term used to describe the difference in the skills that are required for a job and the actual skills possessed by an employee.
The LinkedIn Learning Blog recently published a post examining the skills gap in the United States. According to the article, 5.7 million job openings go unfilled due to lack of necessary skills by job-seekers. If these jobs were filled, only 1.3 million people would unemployed, which translates into an unemployment rate of less than one percent. This would be lowest unemployment rate in recorded history.
But this isn't just an American issue. The Conference Board of Canada says the skills shortage in Ontario costs the economy $24.3 billion dollars in forgone GDP and $3.7 billion lost in provincial tax revenues annually. To put that in perspective, $24 billion is about 4% of provincial GDP.
Is the skills gap affecting our local employment market?
In short, yes. However, the good news is that local employers are taking measures to combat this.
Recently, The Elgin, Middlesex, and Oxford Local Employment Planning Council released their 2017 Employer One Survey, and the results are very revealing. Employers are reporting that finding talent is more challenging than ever, indicating the percentage of hard-to-fill positions at their organizations are consistently increasing from 27% in 2015, to 38% in 2016, to a concerning 46% in 2017.
Top 3 reasons these positions remain hard-to fill according to employers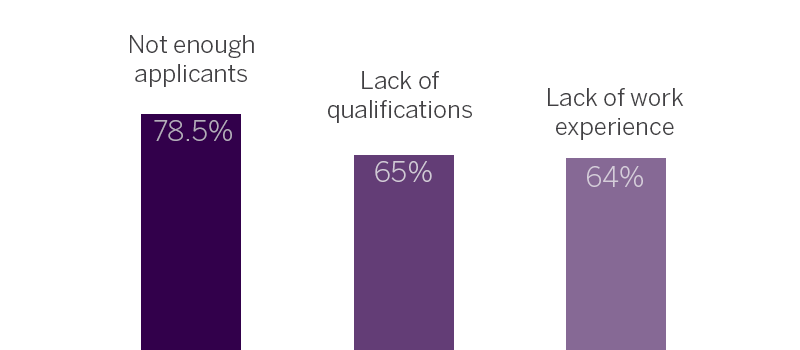 Fortunately, in an effort to counter this trend, local employers are increasing their awareness and investment in skills training. The 2017 survey goes on to report that 73% of organizations confirmed that they provided professional development or training opportunities for their employees. This is an improvement over previous years' results, where 67% of employers in 2016 and 58% of employers in 2015 reported that they provided professional development and training opportunities for their employees.
What can be done about it?
As our society continues to advance technologically at a rapid rate, the pace of change for necessary job-related skills will continue to accelerate. That is a given. Seventy-three percent of employers say skills requirements have increased over the past decade, and will continue to increase further in the decade to come. The most important thing employers can do is recognize the skills gap exists and commit themselves to being part of the solution to narrow this gap. Investing in workplace-based learning opportunities is a great starting point. If costs are a concern, employers can look to find government funding to help with training budgets.
In this day and age, finding the perfect, job-ready candidate with all the necessary skills and education in place is becoming harder to find. The old adage of hiring for attitude and training for skill is becoming more relevant than ever.
---