Posted: Aug 8, 2018
By: Nicole Laidler
Each year more than 3,000 adult learners enrol in courses for professional development and personal enrichment at Western Continuing Studies.
Every year we are inspired by their passion to challenge themselves, to learn and to succeed. For each student the path to the classroom is unique. Nicole Girotti, featured on the cover of our Fall Course Calendar, shares her passion for developing herself – and others.
Lifelong learning a must for Western Continuing Studies student and instructor Nicole Girotti

Nicole Girotti has experienced Western Continuing Studies from both sides of the classroom. As an instructor at Western Continuing Studies, Girotti teaches the Introduction to Toxicology in the Occupational Health and Safety Management Program. As a student at Western Continuing Studies, she has completed her Certificate in Project Management and is currently working towards her Certificates in Management, Leadership, Conflict Management, and Learning and Development.
That's in addition to Girotti's full-time position as an Animal Research Safety Consultant & Special Project Manager at Western University, where she also serves as the VP of Western's Professional and Managerial Association.
As the mother of two young children, Girotti's passion for developing herself – and others – helps her juggle work, family, and time spent in the Western Continuing Studies classroom.
Why are you so committed to lifelong learning?
After I completed my PhD I thought I would be finished with school for a long time, but I ended up taking courses the following year. There is such value in learning new skills and new ways of problem-solving. Systems and processes are constantly evolving. I want to be prepared for the next opportunity. It's about staying current and acquiring skills that are useful in my current job and that might be useful in a future position.
How has learning through Western Continuing Studies benefited you professionally?
Completing the certificates through Western Continuing Studies allowed me to progress in my career and take on additional roles and projects. Having my PhD let people know that I can do research, write, and present information, but I needed those other skills. Taking courses helped me develop my confidence and build my resume.
And personally?
I am someone who needs to be challenged all the time. Taking courses gives me that challenge and keeps me energized.
You are also a Western Continuing Studies instructor. What has that experience been like?
I teach in a field that I work in. The Occupational Health and Safety Management Program is very practical. The majority of our students have already finished an undergraduate degree and are looking for something hands-on. As a teacher, I love seeing people benefit from learning things they are going to use on a daily basis. Teaching adults also means your students bring their own work and life experience to the classroom. So, teaching gives me the opportunity to learn about different perspectives and different ways of approaching things.
What advice do you have for people who may be nervous about returning to the classroom?
There's never a perfect work-life balance. Being organized and scheduling your time are keys for success. You need to make learning a priority. I think most people are afraid because it's been so long since they have taken a course, but I would encourage them to dive in. Start with a two-day workshop or look into one of the many online courses offered by Western Continuing Studies. The benefits of continued professional development are immense. Not only does it improve your effectiveness in your own role, but it also helps you to develop those around you.
---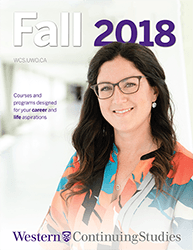 ---
Explore all our certificates: