Posted: Aug 28, 2018
By: Nicole Laidler
Back to School Tips
The back-to-school season is in full swing. While moms and dads are excited to get their kids ready for the first day of school, returning to the classroom as an adult learner can be intimidating.
Whether you've decided to upgrade your skills by taking an online course, have signed up for a two-day workshop, or have made the commitment to complete a post-degree diploma program, getting back into the swing of studying while you juggle other adult responsibilities can be a challenge.
Here are a few tips to help ease your transition back to the classroom
Set your personal and professional goals
Going back to school is not a decision most adults take lightly. It takes time, money, and commitment. Whether you want to strengthen your professional skills to advance your career, need to retrain for a new career, or just want to enrich your life through continuous learning, setting clear goals will help you stay motivated when the going gets tough.
Prioritize your responsibilities
Whether you're taking courses online or will be sitting in a classroom, you'll need to make time for your studies. Be flexible with your regular routine. Some things may need to be postponed while you work towards your educational goals. Ask family members to help with household chores, and don't be too hard on yourself if you need to let a few things slide while you concentrate on your studies.
Check your tech skills
Chalkboards are a thing of the past. Today's classrooms use technology to engage learners, so bring your laptop or favourite device to take notes. If you're taking courses online you can still connect with fellow students by participating in any group chat rooms or video conferences. If you're not sure whether your tech skills are up to speed, ask your academic advisor or your school's Help Centre for support.
Use your school's support system
Your school wants you to succeed. Check out the Help Centre or student office to see what resources are available for adult learners. Then, reach out to other students who may be able to fill you in if you have to miss a class or require help with an assignment. Don't be shy about asking your instructor if you are struggling – remember they are here to help!
Schedule time to study
Speaking of assignments, how will you ever fit them in between grocery shopping and soccer practice? Learning to manage your time effectively is a must if you want to succeed. Many people find it helpful to schedule their study time. Whether you decide to get up a few hours earlier or prefer to work after the kids are in bed, sticking to a schedule will help you stay on top of your homework. Just remind yourself that your small sacrifices will pay off in the end.
Separate your job and your studies
If you are working while you go back to school, it's important not to let your studies interfere with your performance on the job. Most employers understand the value of continuous learning, but it's probably best to leave your schoolwork until after hours. If you must study on the job, save it for your lunch break and try not to work at your desk.
Make time for you
There's no doubt that going back to school can be stressful. You may be dealing with a job, family commitments, and your studies. Even though you're busy, make time to take care of yourself. Getting enough sleep, eating healthy, and finding some time to relax will boost your mood and help you focus on your academic pursuits.
Believe in yourself
It may be years since you've opened a textbook and you may have barely passed high school algebra, but that doesn't mean you don't have what it takes to succeed as an adult learner. Remind yourself of everything you have already achieved in your personal and professional life, and believe in your ability to take the next step in your education. Have a positive mindset, embrace the challenge, and you'll be celebrating graduation before you know it.
---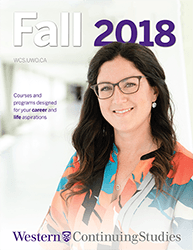 ---
Explore all our certificates: