Western Continuing Studies specializes in adult learning. We understand the unique needs of adults and design all of our courses and programs with those needs in mind. We know that one of the greatest challenges facing adults who want to return to or continue learning is a fear of failure, and we go to great lengths to provide an environment that will enable students to be successful, while at the same time challenging them to push their boundaries.
Western alumni get more!
As a member of the Alumni Western family, you are eligible for our Western Alumni discount when you provide your alumni card number.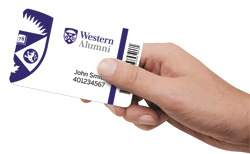 Get Your Alumni Card
Western Alumni Cards are free! Request yours today to start accessing exclusive deals and services.
How do I get the Western Alumni discount promo code?
There are two ways.
Alumni Relations and Development communicates the discount code to Western Alumni who have an alumni card.
Don't know the promo code? Contact our office with your alumni card number and we would be pleased to help you register and receive the discount!
How to register using the promo code?
Once you have the promo code
Select a course.
Hit Register Now.
Enter the Promo Code in the Discount box.
Login with your existing account or if you are new to Western Continuing Studies, create an account.
On your Personal Profile, make sure you add your Educational Background and add yourself to the Western University Alumni Association. You can input your alumni card number where it says Certification / License Number.
Complete the registration process.
Enjoy your course.
The promo code must be used during the time of registration to receive the discount. We are unable to apply the discount retroactively.