LOCATION & PARKING
Downtown Campus
Our Downtown Campus in Citi Plaza is located in the heart of downtown London, a convenient and inviting environment for adult learners to come together to learn and to share ideas.
Citi Plaza is accessible by vehicle, London Transit, and is situated walking distance from the city's VIA Train station.
Citi Plaza, Unit 240
355 Wellington Street
London, ON N6J4J7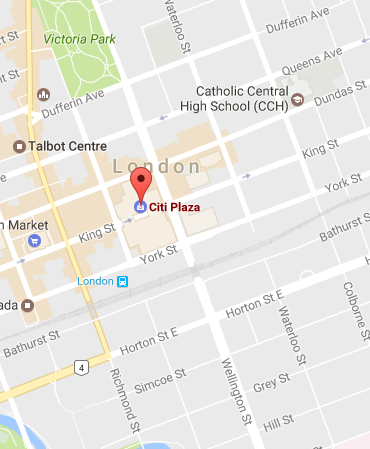 Western's Main Campus
A number of courses each term are held on campus. Including lunchtime languages courses and Western CIM. Search courses held on campus.
Parking
Citi Plaza has two covered parking areas for your convenience.
1. Underground Garage - entrances off of Wellington and King Street
2. Parkade - entrances off York and Clarence
Hourly, daily and weekend rates apply.
Hours of Operation
Regular: Monday to Thursday, 8:00am to 7:30pm Friday, 8:00am to 4:30pm
Summer hours: Monday to Friday, 8:00 am to 4:30 pm