Posted: Jan 15, 2018
By: Natalie Ebel
Each year more than 3,000 adult learners enrol in courses for professional development and personal enrichment at Western Continuing Studies.
Every year we are inspired by their passion to challenge themselves, to learn and to succeed. For each student the path to the classroom is unique. The following is the story of one such student.
From summer co-op student to project manager, Matthew Hessel has spent all 13 years of his professional career with Diamond Aircraft.
Following his graduation with a BESc in mechanical engineering from Western University, Hessel came on board with Diamond Aircraft, where he held various roles, including quality assurance, manufacturing, engineering, supply chain and operations management.
Double the rewards
Along with several years' experience at the same company comes considerable change and more responsibility, all of which leads to more opportunities for learning.
In 2014, Diamond Aircraft went through a business model change, which steered Hessel into the new role of project manager and, as a result, led him to Western Continuing Studies to complete professional certificates in Project Management and Leadership.

"The great thing about project management is that it
is applicable to just about any job"

"The Project Management course serves as a great foundation of knowledge and framework to work within," says Hessel. "The great thing about project management is that it is applicable to just about any job that involves doing something new or something improved – which is pretty much every job out there these days!"
"In the Leadership course, I found I was able to learn a lot of great theory and application for working with others more effectively, allowing me to expand my circle of influence while building trust in my relationships at work."
Hessel's experiences within the Project Management and Leadership certificate programs not only provided him with twice the opportunity to connect with like-minded peers and grow professionally, but he has also been able to pass on his learnings through coaching and leading his team.
Embracing change
Hessel notes that he has been able to improve his communication and change management skills as a direct result of taking courses with Western Continuing Studies.
"With new investors and new product launches underway at Diamond in the last year, we have had a lot of change that has had to be managed within the company," says Hessel.

"Using the understanding I learned in Project Management has yielded great results
in the implementation of these changes and the success of our projects."

Coping with change and overcoming obstacles are two inevitable components of any workplace. Through his courses at Western Continuing Studies, Hessel has gained a newfound confidence in his own effectiveness as a leader and in his ability to tackle the challenges that come his way.
---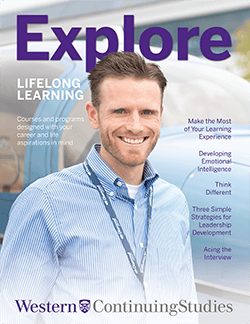 ---
Explore all our certificates:
Advanced Project Management
Business Essentials