THE VALUE OF CONTINUOUS LEARNING
By: Nicole Laidler
As the Director of Western Continuing Studies since 2010, Carolyn Young sees the transformative power of professional development on a daily basis. Continuous learning is about more than just adding skills to a resume, she says. "It's about what you do, where you go, and how you live."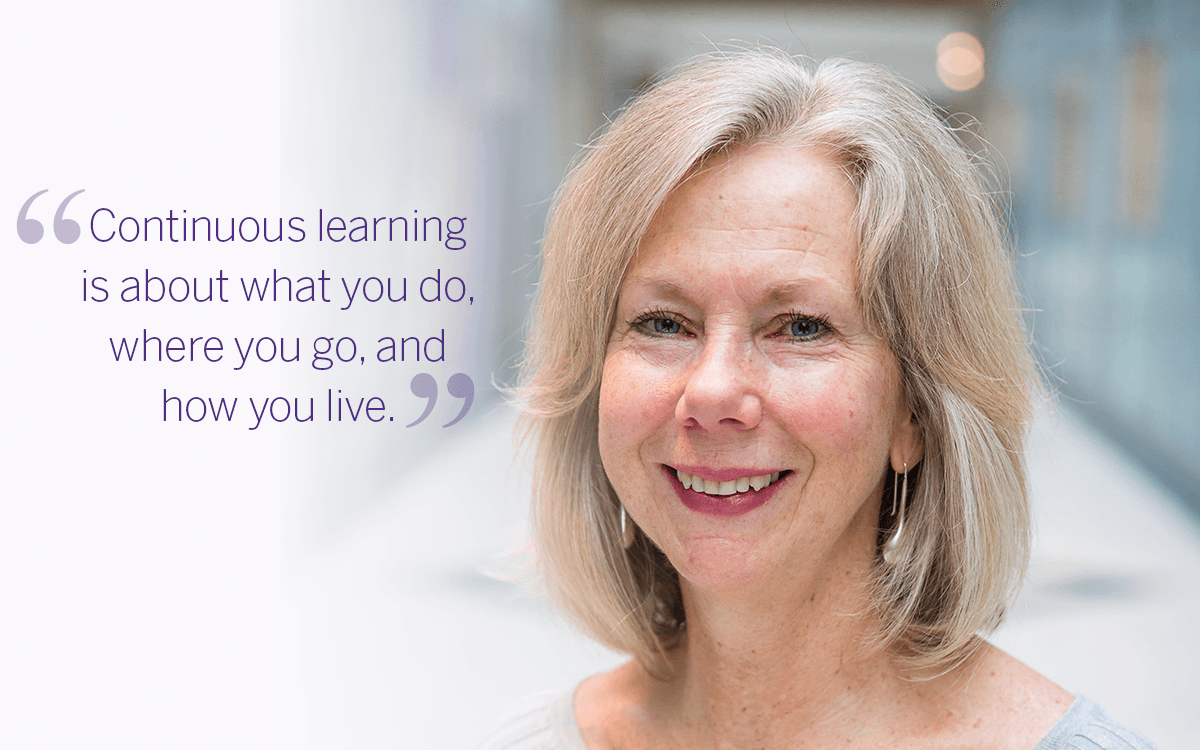 Carolyn Young, Director of Western Continuing Studies
Over the years, Young has enriched her own life by taking courses through Western Continuing Studies.
She has completed her Professional Certificate in Communications and Public Relations, her Professional Certificate in Adult Learning (now called the Professional Certificate in Learning and Development) and she is currently working towards her Certificate in Innovative Thinking. Young has also completed the one-week French Immersion for Adults program offered through WCS – twice.
"We all need to keep learning," says Young. The Canadian job market is evolving rapidly, she notes, and advances in artificial intelligence are expected to disrupt almost every facet of our economy.
Young's observations are borne out by a recent RBC labour force study, which found that more than 25% of Canadian jobs will be heavily disrupted by technology in the coming decade. Fully half will go through a significant overhaul of the skills required.
According to the study, learning new, transferable skills is one of the best things Canadian workers – and their employers - can do to keep up with the pace of change.
Successful organizations recognize the need to offer workers the opportunity to learn and grow. That's why many – including Western University – make professional development available to their employees by providing an annual educational allotment.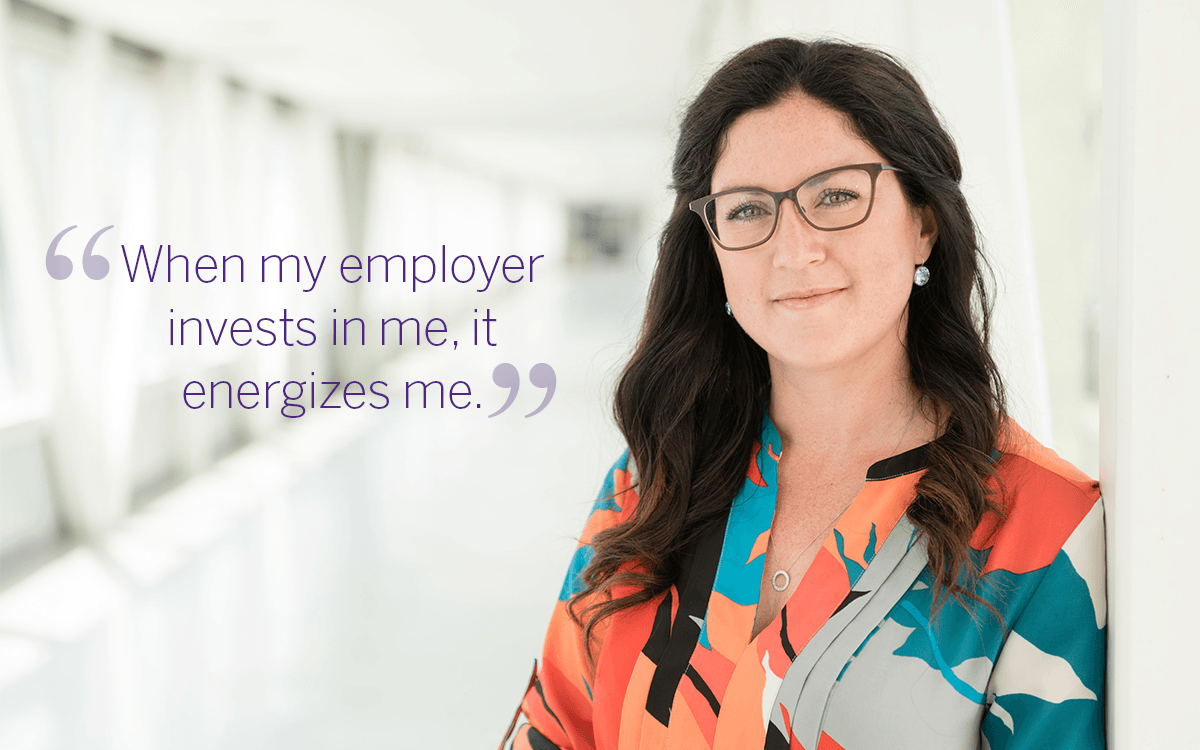 Nicole Girotti, Animal Research Safety Consultant & Special Project Manager, instructor and lifelong learner
"I try to use all of my educational allotment each year," says Nicole Girotti.
She works as an Animal Research Safety Consultant & Special Project Manager at Western University, serves as the VP of Western's Professional and Managerial Association, and is an instructor at WCS where she teaches the Introduction to Toxicology in the Occupational Health and Safety Management Program.
Girotti has also completed her Certificate in Project Management through WCS and is currently working towards her Certificates in Management, Leadership, Conflict Management, and Learning and Development.
Juggling work, a family, and studying takes commitment and organization says Girotti. "But I feel like the skills you learn make it worth the investment."
John De Heus is another Western University employee who sees the value in lifelong learning. He has completed his Professional Certificate in Leadership and his Professional Certificate in Conflict Management Alternative Dispute Resolution, both through WCS.
As an academic advisor in Western's Faculty of Science & Basic Medical Science, De Heus says he uses the skills he learned at WCS on a daily basis.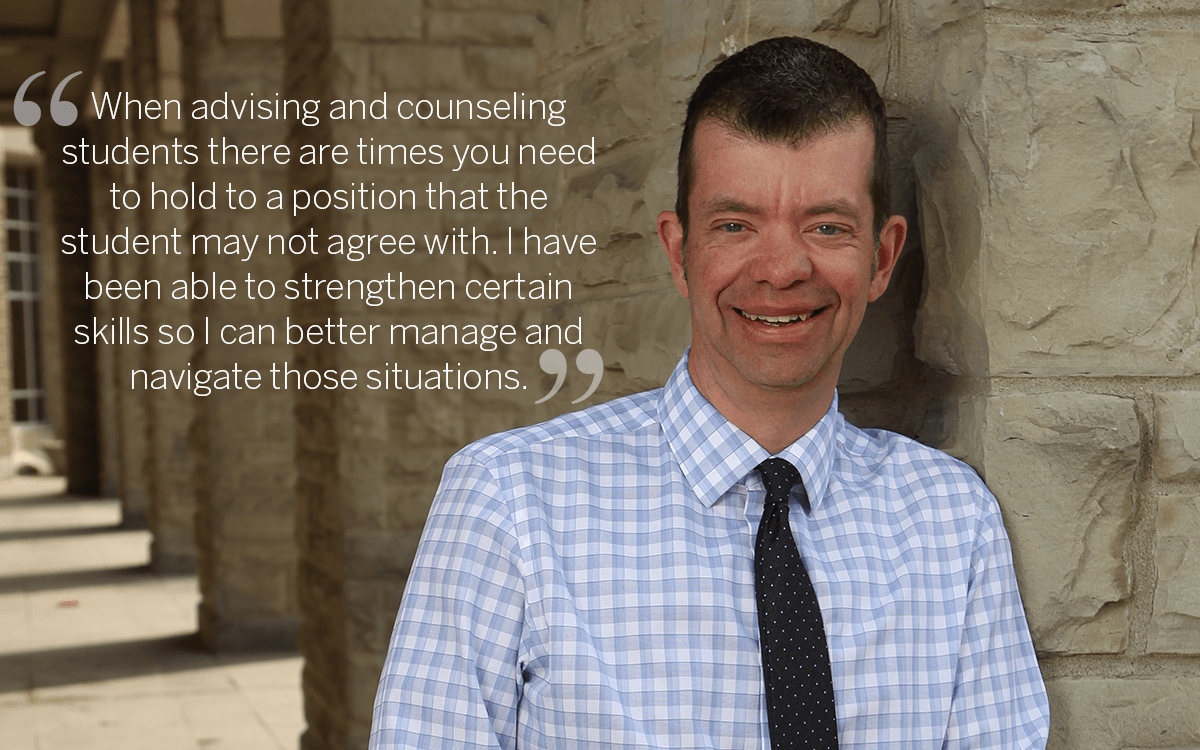 John De Heus, Academic Advisor and lifelong learner
"When advising and counseling students there are times you need to hold to a position that the student may not agree with. I have been able to strengthen certain skills so I can better manage and navigate those situations and provide more successful outcomes and resolutions for both parties," he explains.
De Heus and Girotti say WCS makes it easy to combine work and continuing education. In many cases, courses can be completed in a few days or online.
"The instructors are thorough experts in what they do. They are people who have been in the industry for many years," says De Heus. "As a student, you get quality education delivered in a timely fashion."
And thanks to the educational allotment provided through Western University, classes are advanced funded for Western employees.
"It's a great opportunity," De Heus says.
Girotti comments that taking ongoing courses through WCS helps her develop a broad range of professional skills and keeps her engaged at work. "When my employer invests in me, it energizes me," she says.
This comes as no surprise to Young.
When it comes to employee engagement, research clearly shows that providing opportunities for professional development consistently ranks near the top of the list. "Millennials in particular are looking for employers who value learning and development," Young notes.
Supporting employees who want to grow and learn benefits organizations in other ways as well.
Employees who are active in their learning and development also tend to be highly productive at work – even if they spend a few days or weeks each year in the classroom, says Young. "And the students in our programs come from diverse backgrounds and professions. Continuing education allows employees to see outside their own organization, and to bring that innovation back into the workplace."
---
Explore all our certificates: